Many top agents have discovered that having their own personal moving van can be a huge benefit for their real estate business.  There are so many positives to having your own moving van and the cost is very affordable when you consider the amount of exposure and good will the moving van can create.  Firms like "On The Move" and KW Nash Group are some of the most well known firms that specialize in real estate agents moving van.  These firms not only sell or lease you the moving van but they also can connect you with a specialized insurance program with enhanced liability coverages.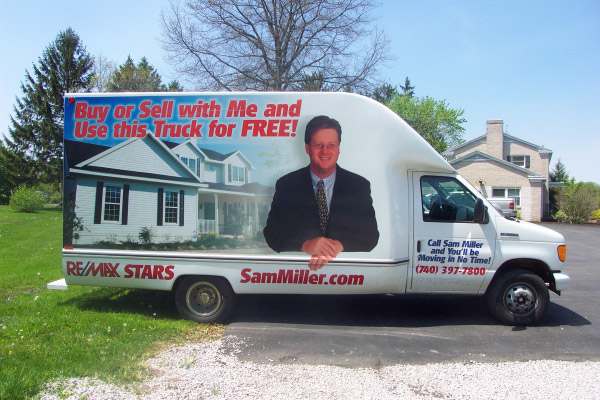 The marketing exposure that your moving van creates is massive and it is truly a rolling billboard.  Once you get your moving van you will constantly hear comments like this "I see your moving van everywhere" or "I see you sold the house down the street...the people moved in on Saturday and I saw your moving truck.  When you hear comments like this it reinforces that your marketing message is working in a big way.  Buyers and sellers love the moving van because they don't have to rent a truck.  One of the biggest benefits is using the truck to declutter their home so I let me clients use it to move their excess stuff into storage which makes their homes show MUCH better. 
The positives of the truck far outweigh the negatives but mentioning the negatives is important.  The truck does require some time.  Someone needs to make sure the truck is crean, maintained, returned clean and full of gas.  The biggest time issue is actually meeting the client for 10 minutes and completing the rental agreement/liability waiver and making a copy of their drivers license and insurance card.  Once of my team members does a quick walk around the truck and shows them how the ramp pulls out and how the sliding rear door opens and locks.  There is nothing difficult about any of this but it does take 10 to 15 minutes per use.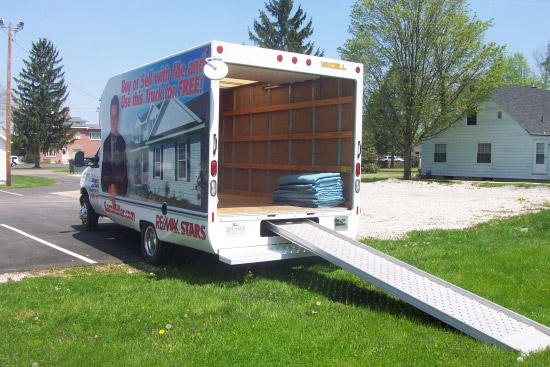 We use the moving truck at our special movie events at out local movie theater.  The exposure at the movie theater is great and people comment about the truck even if they have never used it before.  We use take it to football games and use it for tail gating and we just pull the rear aluminum ramp out about 10 feet and use it for the food table.  Another good use is allowing charity and service groups to use it for their special events. 
If you have a moving van and you are using it creatively please share with us how you are using it differently.